Evcon™: Excellence, Efficiency, Durability and Support
When you choose an Evcon™ system, you get a quality HVAC product backed by some of the best support and warranties in the industry. No matter what the weather may bring, you can rest assured that Evcon™ will be there, offering you the durable engineering and precision efficiency that delivers consistent, reliable comfort for your home. We build our products to meet today's highest energy standards, meeting or exceeding AFUE and SEER standards as outlined by ENERGY STAR®.
State-of-the-Art Manufacturing
Today, the Evcon™ heating and cooling products are built to last, providing you with competitively priced efficiency that's backed by a long-standing tradition of manufacturing excellence.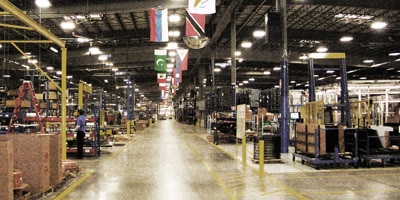 Facility in Wichita, KS
Our 1.5 million square-foot Wichita, Kansas facility opened its new factory in March of 2002, and its new warehouse in May of 2002. The Wichita facility handles manufacturing of all residential air conditioners, heat pumps, and gas furnaces. Accelerated life testing in this state-of-the-art facility ensures that each product performs with the efficiency and durability you've come to expect from the Evcon™ name.